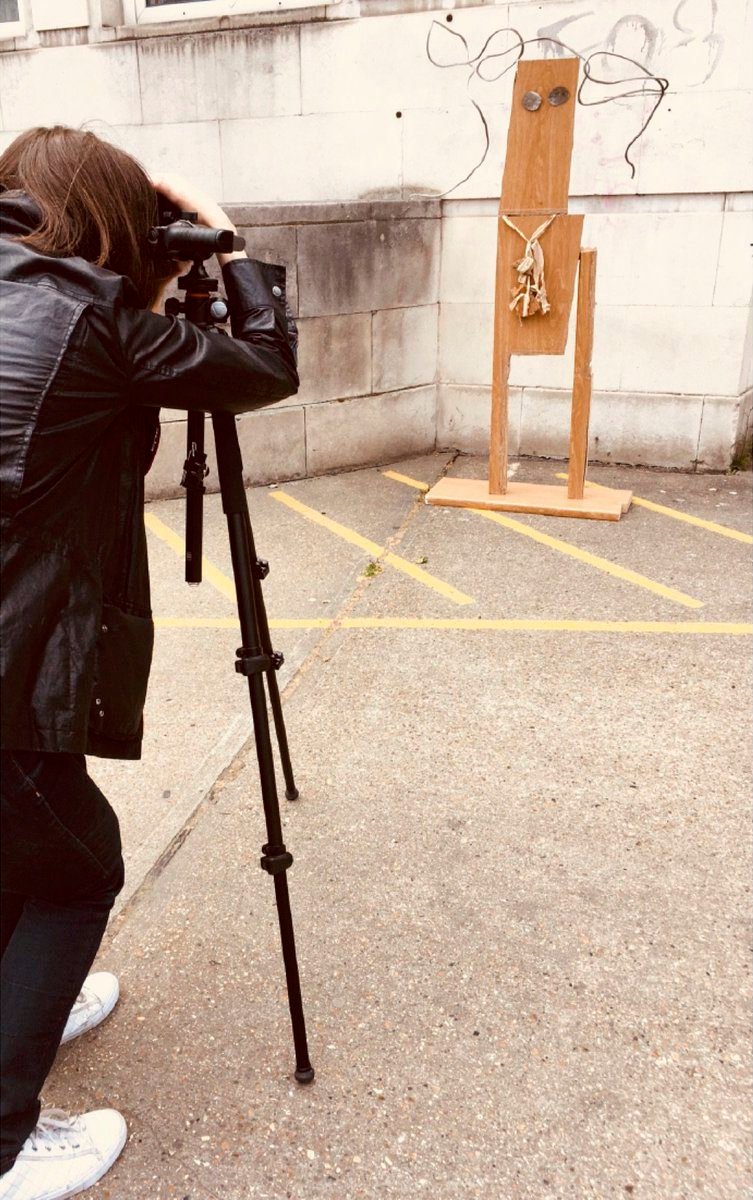 Linda Aloysius: Photographing 'Teen' outside Tate Modern, 2019.
Practice
Linda Aloysius is an artist and activist known for her 'New Model Army' of hand-made, figurative sculptures and related paintings, writings and photography. Using physical, photographic and written gathering processes, she works with discarded and used object fragments, such as domestic floor sections, used worktops and stained tea-towels. She photographs her sculptures and other works in selected urban sites, writing and speaking in response to this process to generate multi-layered Fieldworks, elements of which she exhibits and publishes.
Fruitmarket, Edinburgh, 2023
Egg: 19, Married, Then Pregnant, 2023
Background
Aloysius' route into art and activism is non-typical and her work is shaped by lived experience.
Born in Edinburgh, in early childhood she immigrated with her family, for economic reasons, to Mansfield, a working-class mining town where she grew up. From early childhood she made and wrote extensively. Unwittingly complicit in family silencing and denial of the effects of a home-life of extreme dysfunction, poverty, neglect and her related coercion into caregiving roles, today Aloysius recognises that learning in childhood to connect to playful making, in the face of extreme psychological and practical hardship, generated a vital life-line.
Teenage marriage, subsequent pregnancy, abandonment by her husband, divorce, homelessness with her young daughter and family estrangement are amongst some of the potentially muting experiences that shaped her understanding of the complexities of women's relation to language and voice, ultimately strengthening her artistic practice. In the mid-nineties, upon graduating from Manchester Metropolitan University, she moved with her daughter to London. Here, she experienced the full force of the Conservative party's pathologisation of working-class single mothers, and the extension of its marginalising effects into art institutions and practices. Her work remains deeply affected by the total, global absence of any direct, art-historical legacy of works made by working-class single mother artists and how this absenting compounds their ongoing cultural and political displacement and non-belonging as an unrecognised sub-culture.
Her works illuminate how unequally distributed burdens of invisible labour become embedded into materiality, from 'the ground up', through undervalued bodily actions and acts of emotional giving integral to care. The artist repositions familiar materials, illuminating their poetic and philosophical languages to document and map the structural oppression and marginalisation of working-class women's intelligence and creativity through invisible labour. Within this, the figure of the working-class single mother is a consistent and elusive referent, embodying and living the extremes of this oppression. Through her sculptures, paintings, photography and writing Aloysius activates new, positive values surrounding the playfulness, inventiveness and resilience required in taking on the battle for class and gender equality.
Commentary
'They are delightful as somehow distinct and vivid personalities come through the unpromising materials…they reminded me of Miró's characteristic Personnages…' Duncan Macmillan, Art Critic, Art Historian and Writer, Professor Emeritus of the History of Scottish Art at the University of Edinburgh. The Scotsman, 6th March (Updated 7th March), 2023.
'That materials from brown paper to concrete are used, via degraded or ageing foam spilled from old seating, heightens the sculptures' serious play with vulnerability and permanence, and dramatizes the claim on physical and cultural space they make. The metaphorical potential of this way of working is considerable, and the control of the judgments that have been made (especially the complexity with which elements and relationships are offered as available to be 'read' or not), make encounters with these works compelling. Materiality, degree of lean and height are all richly suggestive and sophisticated workings through of the tradition of the assembled sculpture to be experienced by a circumambient spectator, and also powerful reworkings of this tradition in their calculated use of flat forms as part of a many dimensioned encounter. They speak eloquently to a context in contemporary art that could be represented by the names of, for example, the work of Sarah Lucas, Rebecca Warren or Michael Dean. This brief account can only begin to suggest the achievement of the group of works shown, and their success in communicating complex feminist understandings and solidarities…' – Ian Hunt (Goldsmiths) and Dr Alexandra Kokoli (Middlesex), Examiners' Joint Report: Practice-led PhD Fine Art, July 20th, 2017
'…the quick of recovery, the recognition of the rich hidden force that lies beyond the poverty of gendered display and disguise.  This is the nub of Aloysius' work: the relief at detecting an obscured, inner, elegant whole.  A stance.  What survives in long-standing.' – Cherry Smyth, Poet, Writer and Art Critic: To Keep Standing, 2017
'…a standing army – no reclining nudes here – of 14 life-size women, who assert themselves with considerable vim, cartoonish individuality and not a little well-aimed vulgarity against the historically male zones of the building industry (in which Aloysius has herself worked) and monumental statuary. The fun is in the wittily economical spontaneity of that deconstruction. The opening salvo, which combines concrete high heels with a cement bag head-come-cover in mocking reference to a term of abuse which might be shouted from a scaffold, seems to be heading out of the gallery to admonish any such taunters.' – Paul Carey-Kent, Artist and Curator, Paul's Art World, 31st March, 2012
Bio
Aloysius holds a First-Class honours degree in Fine Art from Manchester Metropolitan University, and an MFA Fine Art (distinction) and practice-led PhD Art from Goldsmiths College.
Recent art and research exhibitions and presentations include with John Moores Painting Prize, Walker Art Gallery, Liverpool (upcoming 2023), Fruitmarket, Edinburgh (2023), Henry Moore Foundation, Leeds (2023), The Foundling Museum London (2022), Tate Modern (2020), Credit-Suisse London (2019), Glasgow University with Girlhood Gang (2019), Durham University (2018), CSM (2018) and MAAT, Lisbon (2017).
Publications include artist's interview and photographed sculptures published as book chapter in 'Poor Things', Edinburgh: Fruitmarket (2023), photographed painting and written text published as book chapter in 'John Moores Painting Prize 2023', Liverpool: Walker Art Gallery (2023), sculpt-photographs and written text published as book chapter in 'Feminist Activisms and Artivisms', Netherlands: Valiz (2020), sculpt-photographs and written text published as journal article in 'Feminist Review, Issue 120, Currents' (2019), written and illustrated text published as journal article in 'Museological Review, Issue 20: The Global Microphone' (2016) and text art reproduced as book section in 'Infallible, In Search of the Real George Eliot', Article Press (2005).
Awards and commissions include Studio Practice Fund Award: Arts Council England Cultural Recovery Fund with DCMS and ACME Studios (2021) and Research Support Awards at Goldsmiths College (2015, 2008).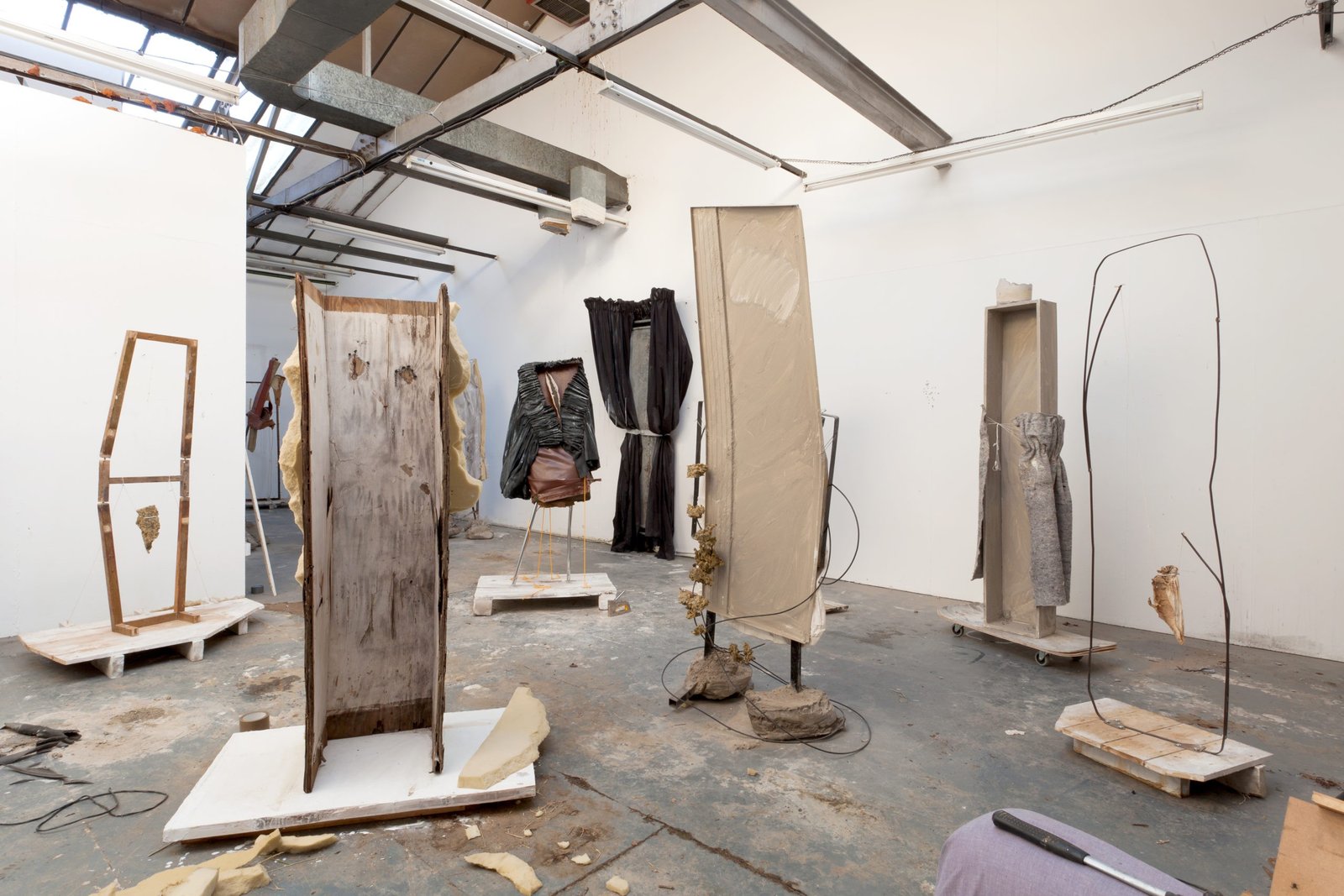 Studio View, London, 2012